*aAa* is back on CS:GO !
Team against All authority, aka *aAa*, welcomes back CS:GO players, with a new partner : Invictus by Paco Rabanne.
*aAa* returns on CS:GO
1153 days. That is the time between the last CS:GO roster, in 2014, and the new one composed of the team WySix former members : wallax, MetaL, nonick, waneG and ZywOo. All of them have already proved that the team has a great potential, facing off top EU teams. They will be coached by an experienced former Counter-Strike 1.6 player, Ozstrik3er, whose the first top team, 10 years ago, was... *aAa*.
*aAa* by Invictus
Benjamin "waneG" Taquet
Flavien "wallax" Lebreton
Benoit "MetaL" Guelette
Mathieu "ZywOo" Herbaut

Matthéo "nonick" Canei

Steeve "Ozstrik3r" Flavigni (coach)

François-Xavier "Tofux" Girault (manager)
We are very excited to join *aAa* which is, for many of us, a legendary team on Counter-Strike. With the arrival of nonick as the fifth player, and with the help of Ozstriker as a coach, we do except to improve our game and reach the top 20/30 EU by the end of the year. Thanks to everyone who support us, we hope to write new pages of the *aAa* history

Flavien wallax Lebreton, captain of *aAa* CS:GO
It is with a great emotion and excitement that we are joining this mythic esport structure, founded 17 years ago. I am honored to carry again the *aAa* colors for their return on the Counter-Strike scene. I am convinced that this line-up has a great potential and the level to improve quickly.

Steeve Ozstrik3r Flavigni, coach of *aAa* CS:GO
For the youngest players, here is a Counter-Strike video made by *aAa* in 2002, maybe some good old memories for the oldest ;).
*aAa* signs with Invictus by Paco Rabanne
2017 has legitimately confirmed the esport exponential growth, and Invictus decided to enter the game by choosing *aAa* to build an esport project around Counter-Strike. From this collaboration a new dedicated logo has been revealed « *aAa* powered by Invictus ».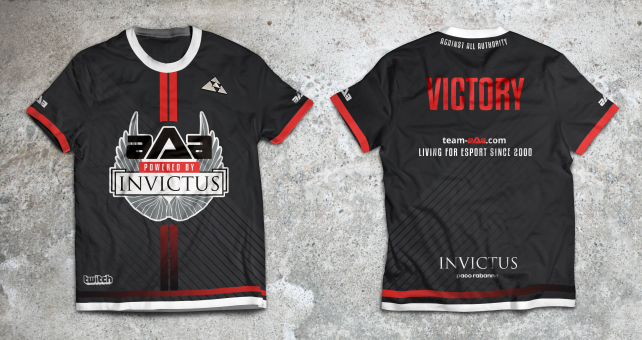 It is with a great pleasure we are formalizing our come back on Counter-Strike, a game that played an important role in *aAa* history. We are proud to count on Invictus as the main support for this new project, and thank them for their trust.

aAa Gaming Management