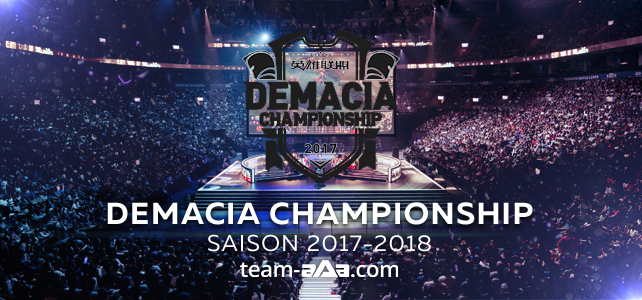 Tencent Games organise l'édition 2017/2018 de la Demacia Championship. Les meilleures équipes des ligues LPL et LPSL ainsi que les meilleures formations de la TGA Heroes Of Cities vont s'affronter pour le titre suprême.

Dénomination : 2017 Demacia Championship
Dates : du 26 décembre 2017 au 7 janvier 2018
Lieu : offline - Chine
Format : phase Play-In + playoffs
Phase Play-In : format King of hill en BO3
Playoffs : arbre à double élimination directe en BO3, finale en BO5
Equipes : 28 équipes
13 équipes de la LPL
11 équipes de la LSPL
2 équipes de la TGA Hero of Cities Season 12.
2 équipes du college
Streams officiels :

Tencent

Jeudi 4 janvier
04h00
JD Gaming 0-2 Invictus Gaming
06h00
Snake Esports 2-0 Bilibili Gaming
08h00
Rogue Warriors 0-2 EDward Gaming
10h00
Team WE 2-0 Suning Gaming
Vendredi 5 janvier
04h00
Invictus Gaming 1-2 Snake Esports
06h00
EDward Gaming 2-0 Team WE
08h00
JD Gaming 2-0 Bilibili Gaming
10h00
Rogue Warriors 2-1 Suning Gaming
Samedi 6 janvier
04h00
Team WE 0-2 JD Gaming
06h00
Invictus Gaming 2-1 Rogue Warriors
08h00
Snake Esports 0-2 EDward Gaming
10h00
JD Gaming 0-2 Invictus Gaming
Dimanche 7 janvier
06h00
Snake Esports 2-1 Invictus Gaming
08h00
EDward Gaming 3-1 Snake Esports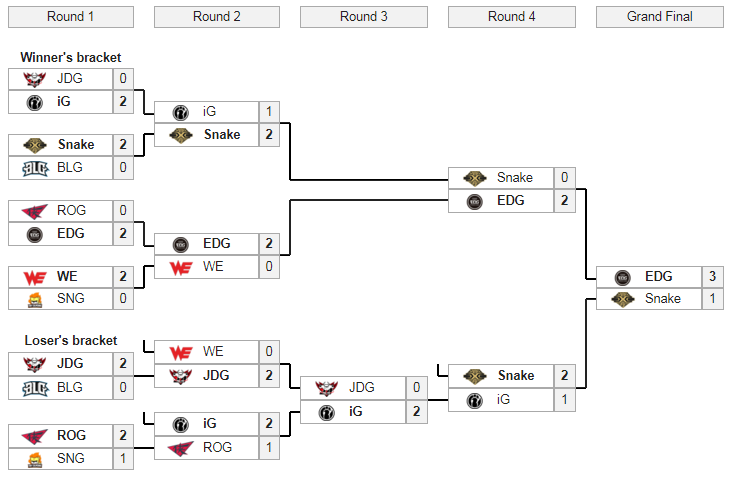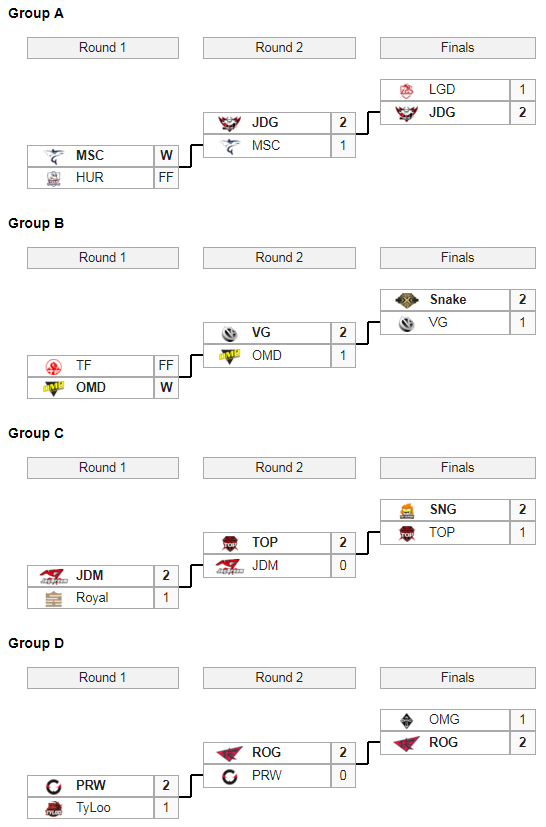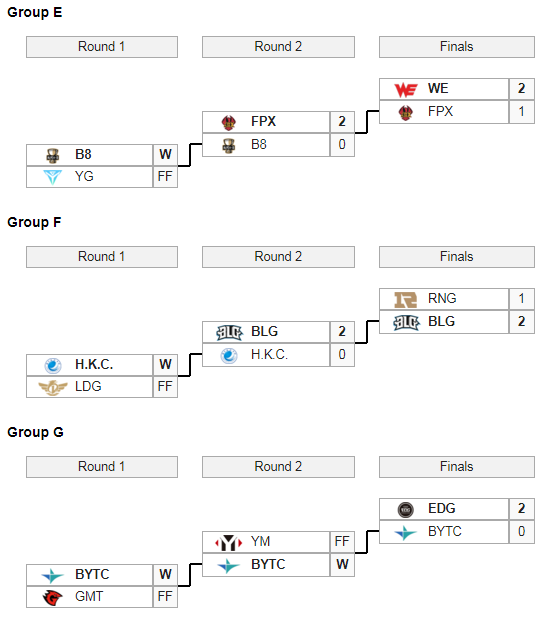 JD Gaming

Zhang "Zoom" Xing-Ran
Toplane
Kim "Clid" Tae-min
Jungle

Pan "xiaohan" Han
Jungle
Ceng "YaGao" Qi
Midlane
Lee "LokeN" Dong-wook

Carry AD

Liang "RD" Teng-Li

Carry AD

Zuo "LvMao" Ming-Hao
Support
Invictus Gaming

Lee "Duke" Ho-seong
Toplane
Kang "The shy" Dong-geun
Toplane
Gao "ning" Zhen-Ning
Jungle
Ge "Kid" Yan
Jungle
Song "RooKie" Eui-jin
Midlane
Chen "West" Long
Carry AD
Yu "JackeyLove" Wen-Bo
Carry AD
Wang "Megan" Liu-Yi

Support
Snake eSports

Li "Flandre" Xuan-jun
Toplane
Lê "SofM" Quang Duy
Jungle
Zeng "ZZR" Zhan-Ran
Jungle
Ceng "Guoguo" Jun-Li
Midlane
Yang "kRYST4L" Fan
Carry AD
Liu "Hudie" Yan-Zhu

Support
Bilibili Gaming
Shek "AmazingJ" Wai Ho
Toplane
Zhao "Freecss" Ao-Di
Toplane
Lee "Chieftain" Jae-yub
Jungle
Yang "Sks" Dai-Zhi
Jungle
Kang "Athena" Ha-woon
Midlane
Li "Mole" Hao-Yan
Carry AD
Xie "Jinjiao" Jin-Shan
Carry AD

Yun "Road" Hangil

Support
Rogue Warriors
Chen "Mouse" Yu-Hao
Toplane
Sung "Flawless" Yeon-jun
Jungle
Kim "doinb" Tae-sang
Midlane
Han "Smlz" Jin
Carry AD
Liu "Killua" Dan-Yang

Support
Edward Gaming

Jeon "Ray" Ji-won
Toplane
Ming "ClearLove" Kai
Jungle
Chen "Haro" Wenlin
Jungle

Lee "Scout" Ye-chan

Midlane

Hu "iBoy" Xian-Zhao

Carry AD

Wang "Hope" Jie

Carry AD

Tian "Meiko" Ye
Support
Team WE

Ke "957" Chang-Yu
Toplane
Zhou "LaoZhou" Chao
Toplane
Xiang "Condi" Ren-Jie
Jungle

Su "Xiye" Han-Wei

Midlane

Ke "Zbb" Zhi
Midlane
Jin "Mystic" Seong-jun

Carry AD

Jeong "Raison" Soobin

Carry AD

Yoon "Zero" Kyung-sup
Support
Ke "Conan" Yi
Support
Nam "Ben" Donghyun
Support
Suning

Gaming
Xie "XioaAL" Zhen-Ying
Toplane
Yang "H4cker" Zhi-Hao
Jungle
Gao "Tian" Tian-Liang
Jungle
Zhuo "Knight" Ding
Midlane
Dong "fenfen" Wei
Midlane
Lee "Fury" Jin-yong

Carry AD

Kim "Yoon" Byung-yoon

Support

Wang "Brain" Yi

Support